We Are All Beautifully Flawed.
We can try and cover up our cracks, but we will NEVER be able to entirely hide the fact that we are all flawed. Our pains and doubts will show up in our lives whether we like it or not. Our emotions will take over our bodies when we least expect them. But no matter what pop-psychology tells us, it's not our job to eliminate those uncomfortable feelings; it's our job to befriend them.
You cannot eliminate negative emotion by suppressing your feelings or choosing not to talk about something that has made you angry, sad or upset. Why? Because positive thinking alone is NOT a transformational strategy. And neither is pretending to be stronger than we feel.
You can never fully flourish if you only live in the future, and we can never be fully fulfilled if we get stuck in the past. Your past holds wisdom, and you can extract gold from your past without re-traumatising; just don't get trapped in it.
We can grow exponentially by REFLECTING on our past, PROCESSING on our new perspective and then INTEGRATING our new way of seeing the world. Why would anyone want to miss out on these teachings?
If we want to embody mastery of ourselves, we must accept that we are, and will always be, students. No level of personal development will exclude this fact. How come? Because even though life seems linear, our lives move in cycles. And because of that, we are not here to reach the finish line; we are here to go beyond our current level of understanding so we can be reminded of how much more there still is to learn.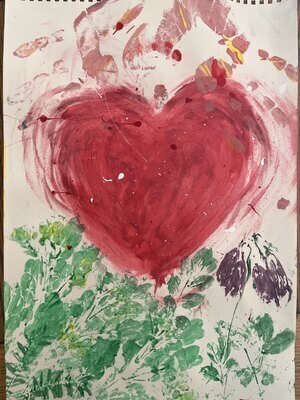 Acceptance is to know that we will never ever reach 100% perfection; Courage is to follow through anyway.
Besides, passion trumps perfection every.single.time. But we'll leave that for another day.
Big Love, from one imperfect human being to another. 🧡
🎨 "Only after disaster can we be resurrected."
The two featured paintings represent the destruction and resurrection of facing significant change. They were created as part of my burnout healing journey last year.
Related Posts